Intermediate Level Lessons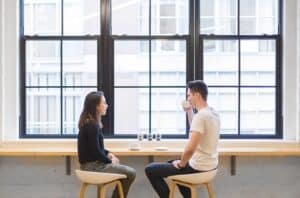 In this free English lesson for intermediate-level language learners, we learn how people would spend their lottery winnings.
Free Lessons for Intermediate English Learners
If you've been studying English for a couple of years and consider yourself an intermediate level student, congratulations! You've already made great progress in your language learning journey. However, you may be wondering how you can continue to improve your language skills with free intermediate English lessons.
Explore Free Online English Lessons for Intermediate Learners
One great place to start is with online English classes. Many websites offer free English classes for intermediate students, including Coursera and USA Learns. These classes usually focus on grammar and vocabulary, and can be a great way to supplement your existing English studies. Of course you can also make use of the large number of free online lessons for intermediate learners available on Base English.
English Language Podcasts For Intermediate Learners
Another great resource for intermediate students is English language podcasts. Podcasts are a convenient way to practice listening and comprehension, and there are many free podcasts available that are specifically designed for intermediate students. Some popular options include "Coffee Break English" and "English as a Second Language Podcast."
Conversation Practice Through Online Groups
In addition to taking classes and listening to podcasts, it's also important to practice speaking English as much as possible. One way to do this is by joining an online English conversation group. Many websites and social media groups offer free conversation groups for English learners, where you can practice speaking with other intermediate students. Joining a group can also be a great way to make new friends who share your interest in learning English.
Enhance Intermediate Level Language Skills Through Reading
Reading in English is also important for improving your language skills. One way to do this is by reading English news articles and books. While it's not always possible to find free books, there are many free news articles available online from reputable sources such as CNN, BBC, and others. Reading news articles can help you improve your vocabulary, grammar, and comprehension.
The Journey of Language Learning
Finally, it's important to remember that learning a language is a lifelong journey. It's important to be patient with yourself and to celebrate your progress along the way. With the free online resources available for intermediate students, there's no reason not to continue improving your English skills.
Summary: A Wealth of Free Resources for Improvement
In summary, there are many free online resources available for intermediate English learners to improve their skills, such as online English classes, podcasts, conversation groups, and reading news articles. It's important to practice as much as possible, be patient with yourself and celebrate your progress along the way. Remember, learning English is a lifelong journey, and there is always room to improve.