Berapa tingkat bahasa Inggris Anda?
Tidak yakin pelajaran Base English Dasar mana yang terbaik untuk Anda? Mengapa tidak mengikuti tes level gratis kami. 
English Level According to CEFR
The Common European Framework of Reference for Languages, or CEFR, is a widely recognized guideline used to measure and describe language proficiency in a standardized manner. It was developed by the Council of Europe to promote communication and understanding among people from different language backgrounds. The framework divides language proficiency into six levels, ranging from A1 (beginner) to C2 (proficient). Let's look at each level in detail to better understand what learners can typically achieve at each stage.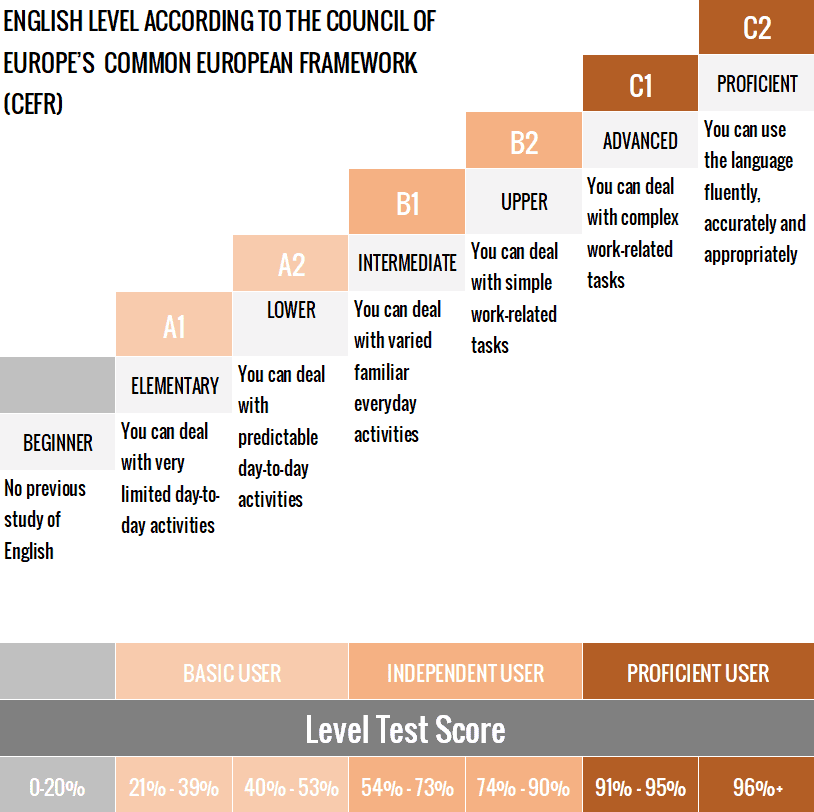 A1 – Beginner
At the A1 level, learners are just starting their language journey. They can understand and use everyday expressions and basic phrases. Typically, students need around 60-80 hours of study to reach this level. In practical terms, A1 learners can introduce themselves, ask and answer simple questions about personal details, and interact in a basic way when the other person speaks slowly and clearly.
Click here to see lessons at the A1 and A2 levels.
A2 – Elementary
Moving to the A2 level, learners continue to build their foundation. This level requires approximately 80-100 hours of study. At A2, learners can understand sentences and frequently used expressions related to areas of immediate relevance (e.g., basic personal and family information, shopping, local geography). They can also communicate in simple and routine tasks, such as ordering food, asking for directions, and giving simple descriptions of their background.
Click here to see lessons at the A1 and A2 levels.
B1 – Intermediate
B1 marks the intermediate level where learners become more confident in their language abilities. Achieving this level typically requires 180-200 hours of study. At B1, learners can understand the main points of clear standard input on familiar matters regularly encountered in work, school, leisure, etc. They can also handle most situations likely to arise while traveling. Additionally, they can produce simple connected text on topics that are familiar or of personal interest.
Click here to see lessons at the B1 level.
B2 – Upper-Intermediate
The upper-intermediate level, B2, demands a more substantial commitment, usually around 350-400 hours of study. At this stage, learners can understand the main ideas of complex text on both concrete and abstract topics. They can interact with a degree of fluency and spontaneity that makes regular interaction with native speakers quite feasible without strain for either party. B2 learners can produce clear, detailed text on a wide range of subjects and explain their viewpoints on various issues.
Click here to see lessons at the B2 and C1 levels.
C1 – Advanced
C1 signifies advanced proficiency, and learners at this level are highly capable in the language. To reach C1, students typically invest around 500-600 hours of study. At this stage, learners can understand a wide range of demanding, longer texts and recognize implicit meaning. They can express themselves fluently and spontaneously without much obvious searching for expressions. Additionally, C1 learners can use the language flexibly and effectively for social, academic, and professional purposes.
Click here to see lessons at the B2 and C1 levels.
C2 – Proficient
The highest level, C2, denotes proficiency comparable to that of a native speaker. Achieving C2 typically involves more than 700 hours of study. At this stage, learners can understand with ease virtually everything heard or read. They can summarize information from different spoken and written sources, reconstructing arguments, and accounts in a coherent presentation. C2 learners can express themselves spontaneously, precisely, and fluently, differentiating finer shades of meaning even in complex situations.
Click here to see lessons at the C2 level.
Kesimpulan
In conclusion, the CEFR provides a clear and comprehensive framework for assessing language proficiency. As learners progress through the levels, they gain the skills needed to communicate effectively in various contexts. It's important to note that these estimations of study hours are approximate, as individual learning styles and prior language knowledge can significantly impact the time required to reach each level. Regardless, the CEFR serves as a valuable tool for learners, educators, and employers to gauge and communicate language proficiency consistently.